Dissmore's IGA
Recipes
https://dissmores.iga.com/Recipes/Detail/5797/Oreo_Cookie_Dessert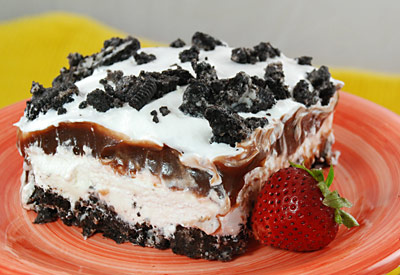 Oreo Cookie Dessert
Yield: 8 to 10 servings
Directions:
Crush cookies and mix with melted butter to form crust (save just a little bit of crushed cookies to sprinkle over top). Spread in 9x13 pan and put in freezer for 10 minutes.

Meanwhile, mix powdered sugar, cream cheese and HALF of whipped topping together. Spread over crust.

Mix both puddings together according to the PIE Recipe directions on box then spread to make next layer.

Finally spread remaining whipped topping over pudding layer and sprinkle with cookie crumbs.

Please note that some ingredients and brands may not be available in every store.
Dissmore's IGA
Recipes
https://dissmores.iga.com/Recipes/Detail/5797/Oreo_Cookie_Dessert
.